Saudi Arabia's King Salman has launched four wellbeing projects worth USD 23 billion for Riyadh, aiming to improve the lives of its citizens and transform the city into one of the world's most livable cities. The four projects, including King Salman Park, Sport Boulevard, Green Riyadh and Riyadh Art, complement the Saudi Vision 2030's Quality of Life Program. The capital's projects offer opportunities worth USD 15 billion for the private sector to invest in the residential, recreational and wellness areas.
Additionally, the projects will provide tens of thousands of new jobs, as well as contribute to an integrated approach to wellness, health, sports, culture and the arts, underpinned by a commitment to environmental sustainability. The four projects that are due to begin in the second half of 2019, are projected to meet the United Nations sustainable development goals and will create 70,000 jobs, generating investment opportunities worth USD 14 billion to local and foreign investors.
King Salman Park
Located in the heart of Riyadh, King Salman Park will create the largest public park, consisting of the Royal Art Complex, a national theatre, an opera house, art academies, museums and galleries. The park will have open green spaces covering 9.3 million sqm in total, along with about 300,000 sqm of water features, connecting it all will be a 7.2 km circular pathway. The 5 million sqm first phase of the park is due to be completed by the end of 2020, with the full projet finished by 2024 and about 400,000 visitors per day are expected.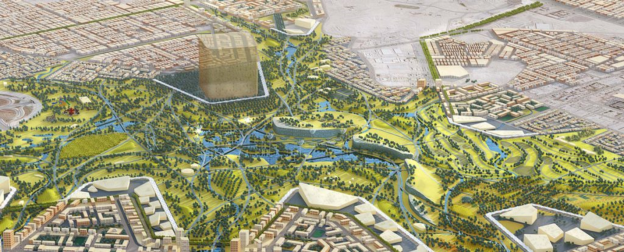 Source: gerberarchitekten
The core elements of the park will be the world-class athletic and sports facilities, including an international-standard 18-hole, 850,000 sqm golf course. The King Salman Park is also planned to host the Kingdom's first virtual-reality playground and its first bungee jumping and parachuting center, along with other sports and activities. While art and culture will be served by the Royal Arrt Complex, consisting of 6 museums, water parks and other artistic attractions. The park will also provide 80,000 sqm visitor's center, restaurants and cafes, 12,000 residential units, 16 hotels and an office complex.
The key aspect of the park's design is also about its strategic location, which was chosen to make it as accessible as possible to the entire population of the city and well served by public transport, including five metro station. As stated by Alshihabi, the founder and managing partner of architecture and engineering design company Omnaria, through public transport, King Salman Park can be reached within 30 minutes from anywhere in Riyadh.
Sports Boulevard
The development of sport boulevard will include 48 green and open spaces, outdoor museums, movie theatres, and cycling, jogging and horseback tracks, designed to encourage exercise. The sports boulevard expands for 135 km across the city, connecting Hanifah Valley in the West with Al Sai Valley in the East with safe green pathways for pedestrians along the whole project.
The project of Riyadh's Sports Boulevard is projected to encourage the citizens of Riyadh to follow a healthy lifestyle, exercising and participating in different sports. Various events and activities aligned with the goals of Saudi Vision 2030 will create a rich cultural, environmental and recreational ambience in the boulevard.
Green Riyadh
The vision of Green Riyadh project is to contribute in increasing the per capita share of green space and raise total green spaces through planting trees around the city features and facilities. Green Riyadh project is expected to increase air quality and reduce temperatures in Riyadh by increasing the green space from 1.7 sqm to 28 sqm per capita, and by planting 7.5 million trees. Moreover, the irrigation network for this project will be established by using recycled water in the valleys.
Riyadh Green will also include afforestation projects across 6,000 schools, 2,000 car parking sites, 390 healthcare facilities, 64 universities, 1,670 government facilities, 272 km valleys, 16,400 km street and roads, 1,100 km green belts along utilities lines (electricity towers, and petrol pipelines), 175,000 square km of empty land, 3,330 neighborhood gardens, 43 parks and 9,000 mosques. The projects will plant 1,100 km green tree species using 72 local tree species which are able to survive in the Riyadh environment.
Riyadh Art
Riyadh Art project is depicted as the "world largest government investment in public art" by the Saudi Arabian government, creating 1,000 installation artworks and landmarks, including museums and theatres created by local and international artists throughout public spaces in Riyadh. These artworks will be set up through 10 main programs, covering residential neighborhoods, gardens and parkas, public squares, public transit stations, traffic and pedestrians bridges, the city entrances and all tourism destinations across the city.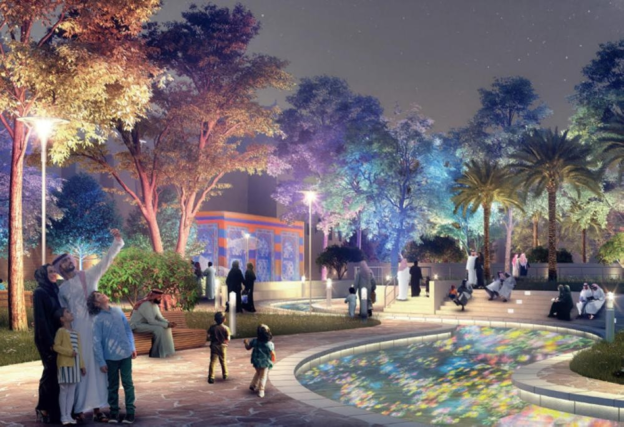 Riyadh Art project is planned to contribute in transforming Riyadh into an open gallery and unleash new horizons for a local and international artistic movement by engaging artists and citizens from all around the world. The project will also strengthen social values, improve civilize interaction, knowledge transfer, creative cooperation and stimulate recreational and creative movement