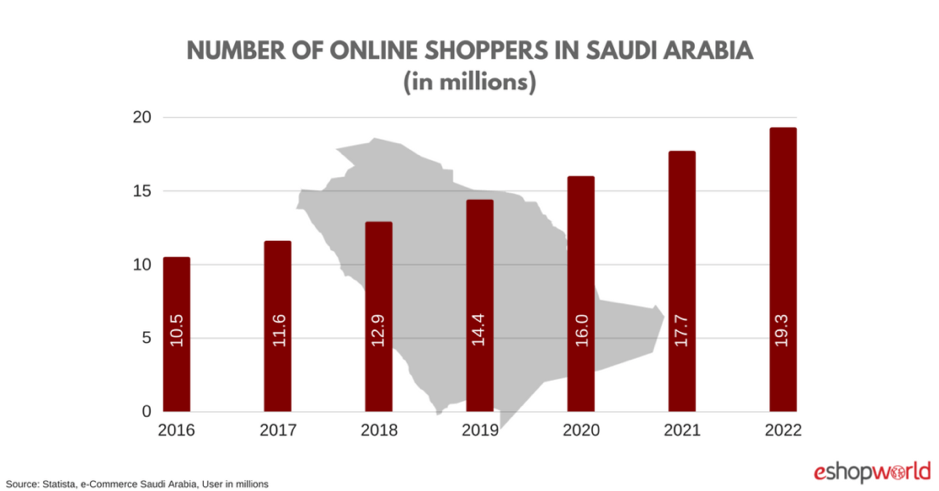 Being the largest economy in GCC region and the youngest internet-connected population in the world, Saudi Arabia is being increasingly targeted by burgeoning e-commerce industry. Saudi Arabian government aims to increase the contribution of e-commerce to 80% of the retail sector by 2020, as the internet population is projected to grow to 73.45% in 2022. By 2020, the e-commerce market in the country is expected to grow to USD 8.35 billion, according to the Saudi Communication and Information Technology.
Saudi Arabia is a home to 32.8 million people with USD 22.411 GDP per capita that is expected to reach USD 23,421 by 2022. Internet penetration is expected to reach 73.4% by 2022, with 65.2% smartphone penetration that is projected to grow to 6.6% in the next few year. Currently there are 12.94 million e-Commerce users in the country with and additional 6.34 million users projected by 2022. These users will spend an average of USD 487.70 online in the next few years.
According to ICT Report on e-Commerce in Saudi Arabia, published by Communications and Information Technology Commission (CITC), shoppers in the country are generally using a combination of online and offline shopping for their purchases. The online shoppers also made purchases not only from Saudi-based companies, but also from companies based in other GCC countries.
When it comes to services products, most shoppers in Saudi Arabia make purchases for travel-related services through online channels, as it gives greater convenience to the consumers. A survey by US tech firm Avaya found that 34% of Saudis make hotel reservations through digital platforms, the highest rate in the GCC region. CITC also found that 31% people in Saudi Arabia used online payment methods for booking travel-related services such as flights, tour packages and accommodation.
Major e-commerce players
There are a few prominent e-commerce marketplaces in Saudi Arabia and Middle East region. Souq.com is seen to be the biggest player and pioneer in Middle East e-commerce, with 50 million customers and operates in all GCC countries when Amazon acquired them for USD 580 million in 2017. It was initially an auction site back in 2005, then it changed to an online shopping site since 2011.
By 2017, the marketplace sold over 8.4 million products in more than 30 categories, including consumer electronics, fashion, health and beauty, household goods and baby. Souq.com has also localized operations in Saudi Arabia, United Arab Emirates and Egypt, with more than 2,500 employees. The company also has subsidiaries for delivery (QExpress), payment platform (Payfort), repair and service marketplace (Helpbit), and delivery marketplace (Wing).
Another regional player is Noon.com, that was launched by the chairman of Emaar, Mohamed Alabbar. The company is currently has around 85% coverage in the UAE and Saudi Arabia. Noon.com has USD 1 billion in funding from Saudi Arabia's Public Investment Fund (PIF) and other private investors. It is aimed to grow as a homegrown and Arabic-first marketplace, a real competitor for Souq.
The company is trying to compete in the market with an aggressive growth plan to focus on its back-end logistics and supply chain systems. The company has differentiated itself by focusing on partnerships with local and international major players, such as Alshaya, eXtra, and eBay. For instance, strategic partnership with eXtra enables Noon to have access to consumer electronics and home appliances brands, such as LG, Samsung, Sony, Braun, Moulinex nd Kenwood. Partnership with eBay also offer customers in Saudi Arabia to easily buy global products online.